RIZE 3D Printer
Full Color and Composite 3D Printers
Safe | Strong | Easy

FULL COLOR PRINTS
Resistant, Secure and Accessible
RIZE has revolutionized the world of additive manufacturing: manufacture your prototypes, tools, and final parts easier than ever before, from directly within your company. No need to hire a technician or reserve a complete part for your 3D RIZE printer. Plus, your machine is a zero-emission printer that does not use chemicals or glue during pre and post-treatment.
When 3D printing your parts in proprietary thermoplastic, whether reinforced technical grade or not, your RIZE can add color inks to meet your manufacturing, prototyping, and aesthetic needs. This patented enhanced depositing process allows you to combine strength, ease of use, and color all on one platform. RIZE 3D printers allow their pieces isotropic resistance, in the X, Y, and Z axes, unlike FDM printers.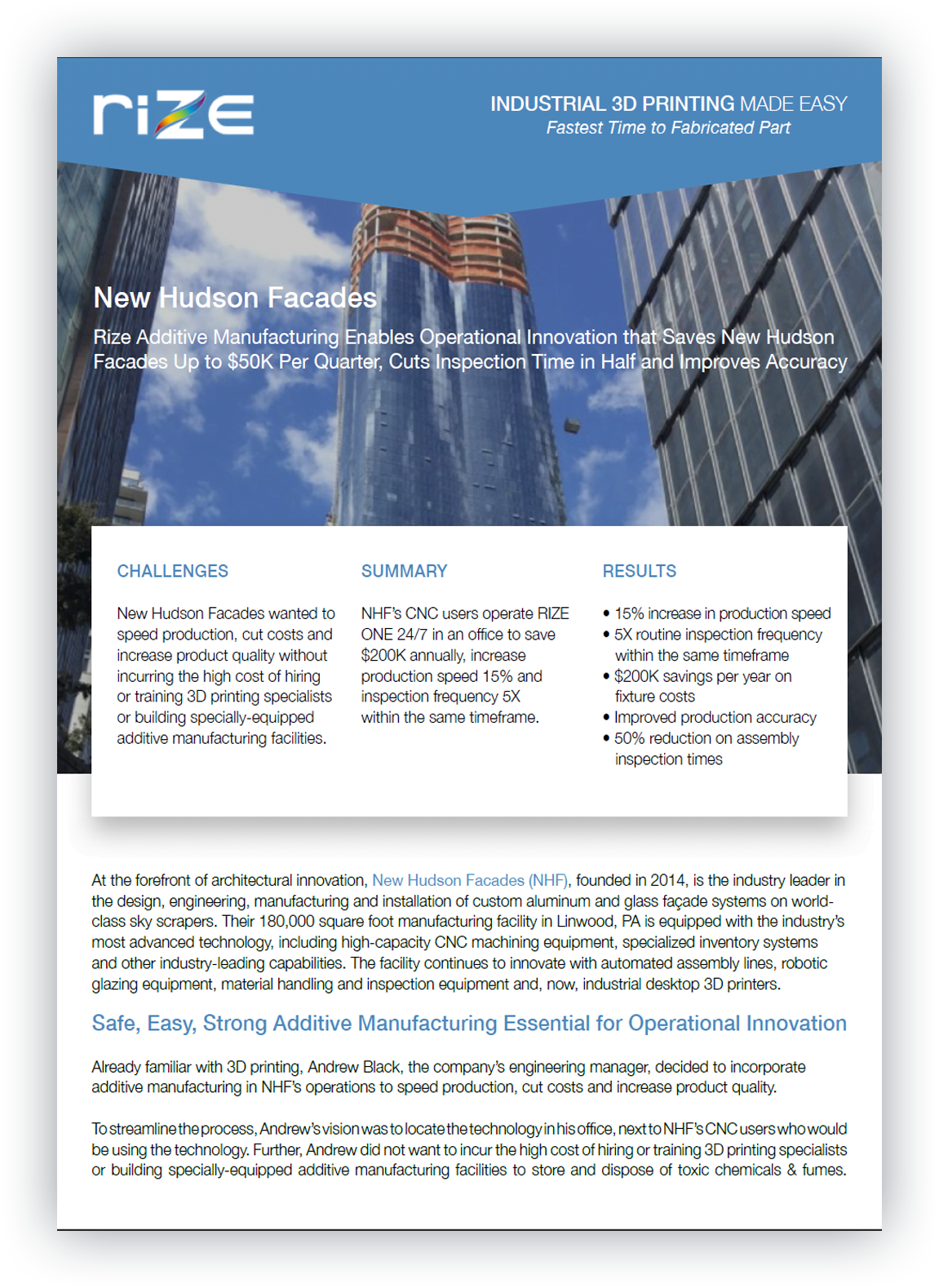 Download the Hudson Facades case study
Bring the power of 3D printing to your company.
Minimal part management
Almost no pre and post-processing required.
A broad range of function
Print imitations of injection molded parts.
Digitally augmented parts
Add text, images, or QR codes to your printed parts.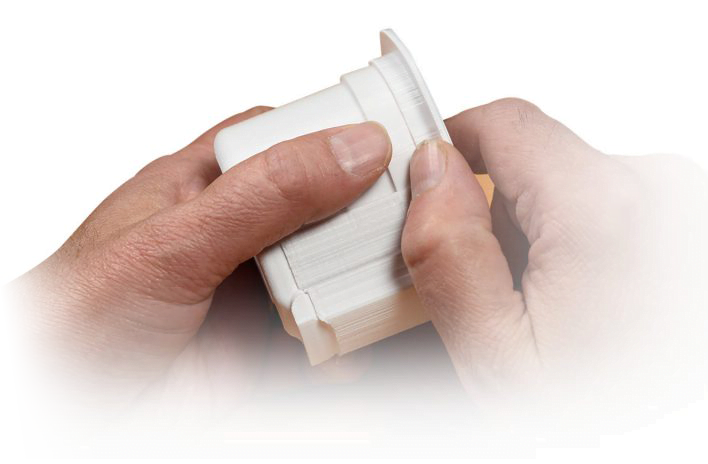 AUGMENTED DEPOSITION is the only way to do additive manufacturing for best-in-class strength, fastest time to part& the lowest cost of ownership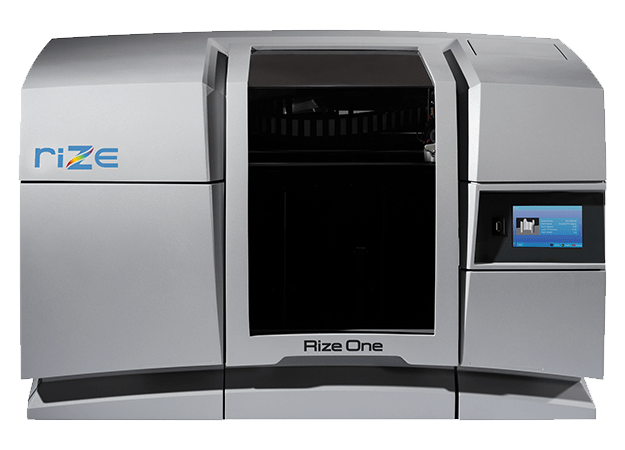 RIZE ONE
Discover the first Augmented Polymer Deposition (ADP) printers: resistant, secure, fast, and equally economical, with minimal pre and post-treatment. Ensure digital traceability, the personalization of parts by injecting ink during 3D printing. From prototyping to tooling and final parts, this printer guarantees low operating costs and fast profitability.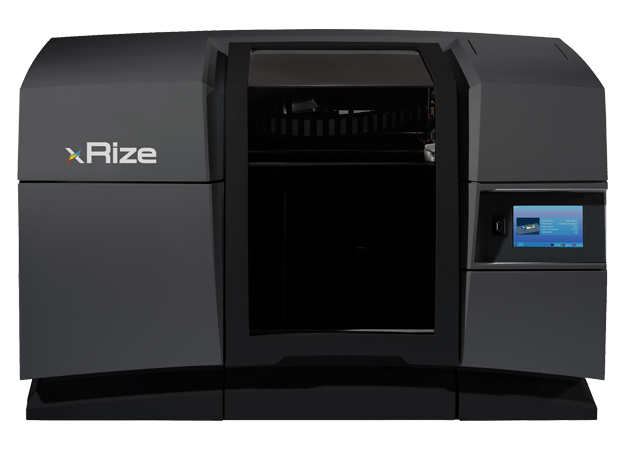 XRIZE
The most economical 3D color printer available. The XRIZE has all the advantages of its little sister, the RIZE One, plus the opportunity to bring your prototypes and functional parts to an unparalleled level of color.
Imagine the representation of a finite element analysis reproduced directly on your piece, your prototype already in the colors of the final product, realistic packaging, or educational reproductions of human body parts, all from a simple and safe process.
PROTOTYPING
Innovate on design and pre-production parts and assemblies with RIZE.
Prototyping and functional prototyping is essential to deliver best-in-class products to end customers. This requires testing the prototypes continuously at different iterations during design and in manufacturing. Product design and development is collaborative with multiple stakeholders, iterating until pre-production builds are ready to launch a new product.
RIZE 3D Printers are purpose built for safety, strength, accurate parts required for functional prototyping. With an ability to print from plastic to carbon, version numbers on the part, zero post-processing that takes seconds/minutes to remove the supports and industrial nature of the 3D printer, RIZE is a 'workhorse' for many customers. This allows RIZE customers for faster iteration, compressed design cycle times and get to pre-production parts and assemblies quickly before scaling manufacturing.
TOOLING, JIGS & FIXTURES
Accelerate manufacturing operations with custom tooling, jigs and fixtures.
Manufacturing custom tooling, jigs and fixtures is a very expensive process, with long lead times from a few days to several weeks. This traditional approach does not allow for multiple iterations creating risk in delivering consistent and accurate parts. Injection molds for custom tooling is very expensive process and any design changes can delay production from weeks to months.
RIZE 3D printers are purpose built for safety, strength and accuracy of parts. With zero emissions and ease of use – RIZE 3D printers can be used on manufacturing floors or at any point of consumption. The ease of use allows for existing personnel like CNC users to manufacture tooling, jigs and Fixtures in plastic or in Carbon composites. With zero venting, zero post-processing and desktop form factor, companies need no additional investment necessary. RIZE customers create Injection molds, thermoset molds, jigs and fixtures without CAM, with lower labor costs while keeping manufacturing running continuously.
SERVICE/END-USER PARTS
Minimize customer downtime while optimizing inventory to reduce costs.
Sourcing machine replacement and spare parts presents enormous challenges for companies. Parts become costly as they are in small batch orders with tooling no longer available. It is also expensive to keep all the necessary inventory in the tool crib to keep a factory floor running. These parts are not prioritized in traditional manufacturing shops with high prices especially when supplier has discontinued a product or has gone out of business.
RIZE 3D printers are purpose built for Safety, Strength and Accurate parts. With zero emissions and ease of use – RIZE 3D printers can be used on manufacturing floor or at any point of consumption. This enables RIZE 3D printers to be used in customers' plants, most of whom have strict safety and compliance standards. With QR codes embedded in the part, companies can document every detail and versioning history of parts. This allows for digital inventory management with significant savings in inventory costs.
FULL COLOUR
Produce full-color prototypes and parts for a greater diversity of applications.
XRIZE leverages RIZE's hybrid Augmented Deposition process by extruding our proprietary compound of engineering-grade thermoplastic and simultaneously jetting C, M, Y, K (cyan, magenta, yellow and black) inks through industrial printheads wherever they are needed to achieve the full-color part.
Release Ink is jetted between the part and its automatically-generated supports to enable the user to quickly peel the supports away from the part, leaving a smooth surface finish and eliminating the need for additional finishing. With RIZE ONETOUCH software, users can quickly and easily apply text, images and texture maps to monochrome part files or import color CAD files.

Mecanica has been working with Dassault Systèmes and their solutions for over 30 years.
We not only offer the range of industry leading Dassault technologies but we can also custom build CAD/PDM/PLM
software applications that are tailored for your enterprise.

Products
3DEXPERIENCE
CATIA
DELMIA
ENOVIA
SIMULIA
MARKFORGED
BOXX
Services
Engineering
Training
Support
Software Development
Canada
Montréal, QC
Tel: (514) 340 1818
Toronto, ON
Tel: (905) 944 0047
USA
Livonia, MI
Tel: 1-888-326-8326
Stamford, CT
Tel: (203) 325-2220
Cincinnati, OH
Tel: (513) 898-9096
San Jose, CA
Tel: (408) 668-8300