CATIA R2021x
CATIA IS THE WORLD's LEADING SOLUTION FOR PRODUCT DESIGN AND EXPERIENCE.

USED BY
Leading organizations
CATIA is the World's Leading Solution for Product Design and Experience. It is used by leading organizations in multiple industries to develop the products we see and use in our everyday lives.
CATIA delivers the unique ability not only to model any product, but to do so in the context of its real-life behavior: design in the age of experience. Systems architects, engineers, designers, construction professionals and all contributors can define, imagine and shape the connected world.
Please fill out the form and a CATIA expert will contact you soon:
CATIA, powered by Dassault Systèmes' 3DEXPERIENCE platform, delivers:
A Social design environment built on a single source of truth and accessed through powerful 3D dashboards that drive business intelligence, real-time concurrent design and collaboration across all stakeholders including mobile workers.
An Instinctive 3DEXPERIENCE, for both experienced and occasional users with world-class 3D modeling and simulation capabilities that optimize the effectiveness of every user.
An Inclusive product development platform that is easily integrated with existing processes & tools. This enables multiple disciplines to leverage powerful and integrated specialist applications across all phases of the product development process.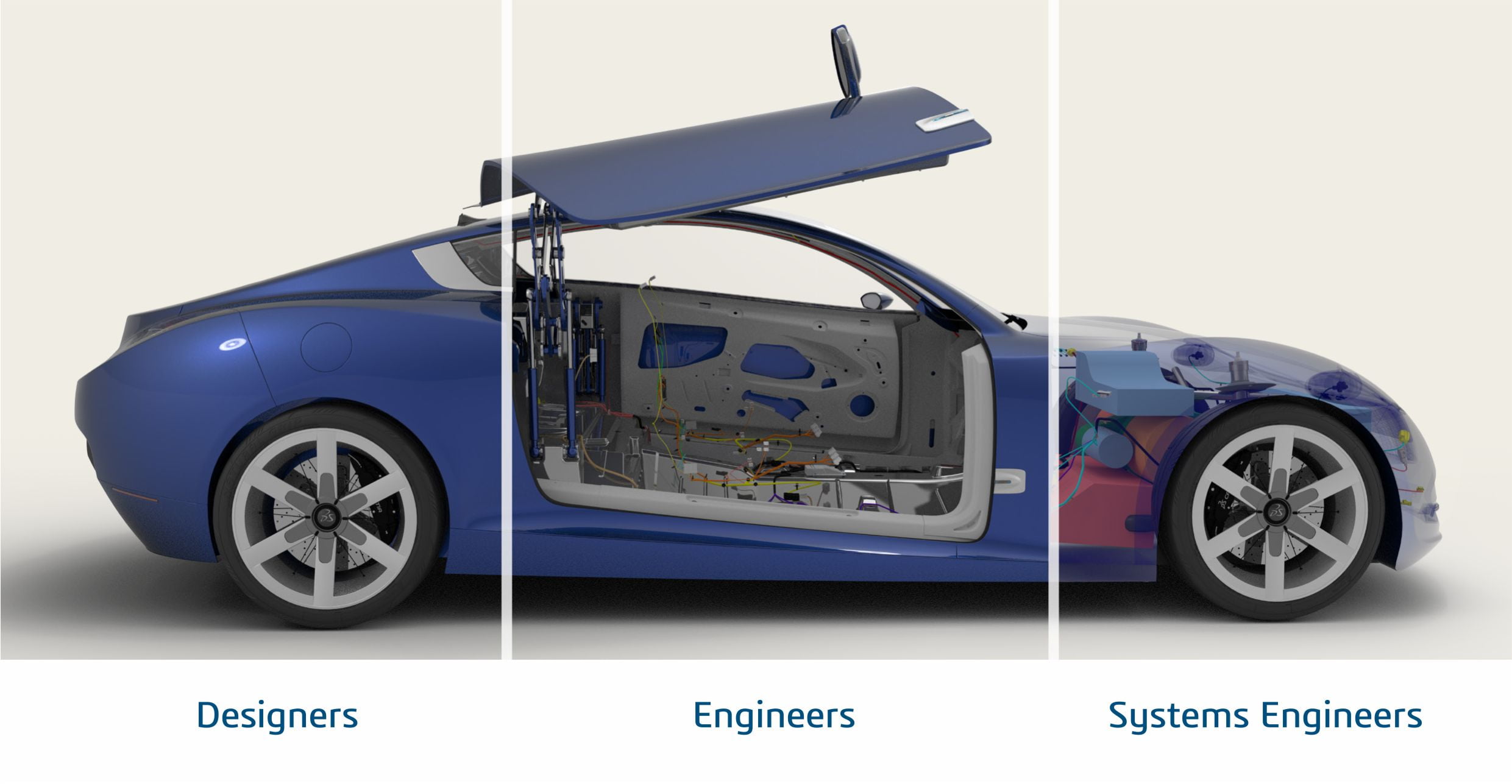 CATIA's Design, Engineering, Systems Engineering and Construction applications are the heart of  Industry Solution Experiences from Dassault Systèmes to address specific industry needs. This revolutionizes the way organizations conceive, develop and realize new products, delivering competitive edge through innovative customer experiences.
CAT Entry Level
CAT Entry Level Configuration: CATIA TEAM PLM is the most robust, leading edge solution used to manage your product's lifecycle from start to finish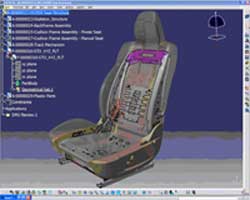 Unique knowledge capture and reuse enables fast design change and innovation
Easy product creation, from simple to sophisticated, with powerful CATIA modeler
Comprehensive drawing production with market leading generative drafting fully associative with 3D
Easy and interactive decision making thru instant collaborative reviews
Native access to virtual product data management directly in CATIA
Pre-customized product information for managing customer asset
Immersive interface for team management
Encourages reuse of existing assets and standards
Fully secured environment
Collaborative design iterations
Deploys a complete collaborative environment in 10 days – ask us how
.
CATMSE (Mechanical & Shape Engineering Excellence)
CAT + MSE Mechanical Shape & Engineering Excellence Configuration: Includes all functionality as described in CAT+MEE plus the following;
Molded Product Creation [MPE] – Design parts and related tooling using history-free functional design approach, including extrude, revolve, cut, rib, boss, cut-out, pocket, grill, shell, etc. Check the validity of imported geometry with regard to CATIA V5 modeling criteria and, if necessary, improve the topology and geometry of analyzed objects and for rapid prototyping machines working with STL files as input, helps to generate and repair meshes to obtain machinable mock-ups.

Mechanical Shape Optimization [HCX] – Quickly and easily unfold any type of free-form surfaces and develop curves on a revolution surface to define an associative flattened pattern from 3D models, Design advanced shapes based on a combination of wireframe and extensive multiple surface features, with full specification capture and reuse, Extend the combined wireframe and multiple surface creation features of CATIA – Generative Shape Design 2 (GSD) with its powerful global deformation technologies and Optimizes your 3D digital model through realistic shapes resulting from simulations, or measurements, of products in operation.
FreeStyle Shape Design [FSX] –Extend the shape and surface modelling functions of CATIA – Freestyle Shaper 2 (FSS) to the morphing of complex, multi-surfaces shapes, Address intuitive dynamic surface creation by sweeping a profile curve along multiple guides, Provides powerful surface-based tools to help designers create styled shapes and surfaces efficiently with automated multi-face curvature and tangency management and Allows the integration of stylists' work (such as 2D painting) into a 3D format, as the basis for 3D virtual mock-ups
CAT+MCE (Mechanical Design)
CAT + MCE Mechanical Design Configuration: Bringing 25 years of product design excellence to businesses of all sizes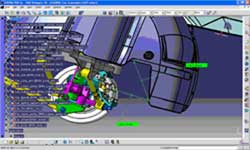 High quality design for all mechanical parts, resulting from strong partnerships with industry leaders from all industries
Reduce time to design by enabling true concurrent engineering on complex parts
Fast design changes by automatically adapting parts and products to new contexts
Functional modeling : focus on what you want to model and not how to model it?
Hybrid design: fully associative mechanical shape design in context of parts
Dress-up feature completeness solving complex fillets and drafts
A unique part structure with multi-body design and powerful body operations
Automated relational design with publications
Functional feature modeling approach: Order-independent feature creation resulting in history-free part construction
CAT + MCE + HDX (Hybrid Design)
CAT Entry Level Configuration: CATIA TEAM PLM is the most robust, leading edge solution used to manage your product's lifecycle from start to finish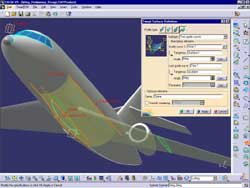 Recognized as the standard solution in mechanical shape design domain delivering high quality shapes
Rapid propagation of design changes at any time for easy shape design optimization
Automatic generation of complex hybrid shapes such as sweeps and blends
Standard design methodology definition to speed up the design process
Compliancy with design rules and constraints making shapes ready for manufacturing operations
Concurrent design empowerment
Smart feature-based approach to dynamically create and modify all types of wireframes and surfaces
The most extensive set of advanced surface capabilities on the market such as adaptive sweep
Wide set of real time analysis tools for quality checking
Powerful law definition to capture design intent
Unmatchable knowledge template creation and reuse for automation of design tasks
Styled surfaces can be refined and used as references to create mechanical shapes
CAT + AME (Manufacturing)
CAT+AME Advanced Multi-Axis & Pocket Machining Configuration: De facto standard for complex aerospace part machining with state of the art milling technologies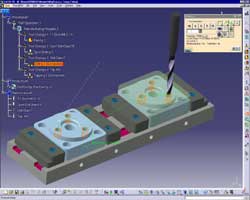 All-in-one milling option
Best in class surface machining quality, faster machining time and ensured collision free tool paths
Drastic reduction of machining operations and NC programming time savings
Especially for multi-pocket parts (programming is up to 8 times faster with 75% fewer operations)
Through-machining process automation
Ultra-large NC program management and ultra-fast computation thanks to 64-bit support
Seamless design-to-manufacturing process with manufacturing features recognition and full associativity in the event design changes are made
State of the art machining techniques support: HSM capability, strategies for hard materials:
5-axis flank contouring
5-axis helix machining for turbo-machinery parts
Global and automatic machining strategy for multi-cavity parts
Powerful automation capabilities for efficient NC programming:
Capitalization of already defined processes thanks to machining process templates
Automatic sequencing, user defined Features…
Accurate verification of the tool path including simulation of material removal and analysis of remaining material in photo Mode Visit
CAT + GAE (Analysis)
CAT+GAE Generative Structural Analysis: Early assessment of product mechanical behavior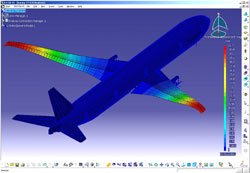 Easy to use and to understand analysis environment that enables designers and engineers to inspect product quality
Early product simulation reduces costs by helping detect problems at the beginning of the design process
Productivity gains thanks to a common environment that enables seamless analysis-design iterations
Linear stress and modal analysis on part and hybrid assemblies
Easy to use pre and post processing capabilities
Automatic mesh generation and smart adaptive mesher
Robust and automatic generation of connection elements
Associativity between design and analysis specifications
 
CAT + MTE (Mold Tooling)
CAT+MTE Mold Tooling Creation: Integrated environment for overall tooling design and manufacturing preparation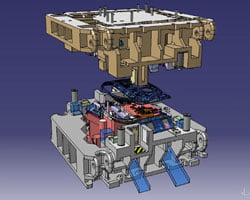 Fast core and cavity definition
Easy know how capitalization and reuse thanks to components/tooling templates
Efficient change management with full associativity throughout the tooling design and manufacturing process
Ultra-large tooling design and management thanks to 64-bit support
Check the validity of the imported shape and improve its quality
Effective definition of core, cavity and parting surface according to pulling direction, moldability and manufacturability assessment
Most commonly used standard mold catalogues
Intelligent standard / user defined component management (with associated drillings & NC information)
AVAILABLE
training courses
Date/Time
Event
Jul 04, 2022 - Jul 08, 2022
9am - 5pm EST
Training - CATIA V5 Advanced Design
Jul 25, 2022 - Jul 29, 2022
9am - 5pm EST
Training - CATIA V5 Fundamentals
Aug 01, 2022 - Aug 05, 2022
9am - 5pm EST
Training - CATIA V5 Manufacturing
Aug 08, 2022 - Aug 12, 2022
9am - 5pm EST
Training - CATIA V5 Advanced Design
Aug 15, 2022 - Aug 19, 2022
9am - 5pm EST
Training - CATIA V5 Fundamentals
Aug 24, 2022 - Aug 26, 2022
9am - 5pm EST
Training - 3DEXPERIENCE ENOVIA "Gateway to 3DX Platform"
Aug 29, 2022 - Sep 02, 2022
9am - 5pm EST
Training - 3DEXPERIENCE CATIA Fundamentals
Sep 12, 2022 - Sep 16, 2022
9am - 5pm EST
Training - CATIA V5 Manufacturing
Sep 19, 2022 - Sep 23, 2022
9am - 5pm EST
Training - CATIA V5 Advanced Design
Sep 26, 2022 - Sep 30, 2022
9am - 5pm EST
Training - CATIA V5 Fundamentals
Oct 03, 2022 - Oct 07, 2022
9am - 5pm EST
Training - 3DEXPERIENCE CATIA Fundamentals
Oct 12, 2022 - Oct 14, 2022
9am - 5pm EST
Training - 3DEXPERIENCE ENOVIA "Gateway to 3DX Platform"
Oct 17, 2022 - Oct 21, 2022
9am - 5pm EST
Training - CATIA V5 Manufacturing
Oct 24, 2022 - Oct 28, 2022
9am - 5pm EST
Training - CATIA V5 Advanced Design
Oct 31, 2022 - Nov 04, 2022
9am - 5pm EST
Training - CATIA V5 Fundamentals
IN CONSTRUCTION
DIGITAL CONTINUITY FOR BUILDINGS AND INFRASTRUCTURE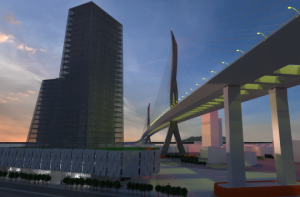 The design and engineering processes for construction requires close collaboration among multiple participants across all project phases. Additionally, increasingly complex construction projects require that all teams rely on 3D as a common language to facilitate collaboration and reduce rework between phases.
3DEXPERIENCE CATIA allows architects and engineers to build beyond the limits of traditional project delivery methods by delivering a range of 3D modeling solutions that span all design and engineering phases. 
DESIGN / STYLING
CATIA DESIGN / STYLING FOR PRODUCT EXCELLENCE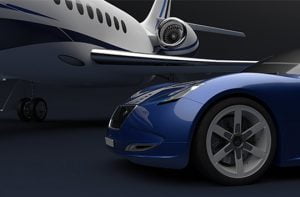 From product to transportation industries, the style & design of the product plays a major role in its success on the market. Develop shape & material creativity, reach a high level of surface sophistication & quality, and get the right decision tools with physical & virtual prototypes. These are the key elements of CATIA Design/Styling to boost design innovation.
From 3D sketching, subdivision surface, Class-A modeling to 3D printing, reverse engineering, visualization and experience, CATIA Design/Styling provides all the solutions for design  creativity, surface excellence and product experience.
ENGINEERING
CATIA ENGINEERING EXCELLENCE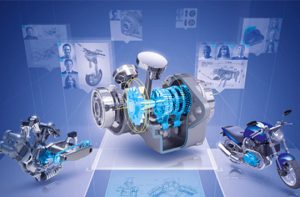 As products and experiences continue to increase in complexity, performance and quality targets are becoming more demanding. CATIA answers that challenge, enabling the rapid development of high-quality mechanical products.
Mechanical engineers equipped with CATIA 3D Modeling tools can gain insight into key factors of quality and performance early in the product development phase. Digital prototyping, combined with digital analysis and simulation, allows product development teams to virtually create and analyze a mechanical product in its operating environment.
SYSTEMS ENGINEERING
MASTERING THE CROSS-DISCIPLINE SYSTEMS DEVELOPMENT PROCESS
Developing smart products has never been more challenging. Developers need an integrated systems engineering approach that enables them to manage the complete development process. Requirements engineering, systems architecture definition, detailed modeling and simulation of complex systems and the development of embedded software all need to be mastered in the context of the complete product.
The Systems Engineering solution from Dassault Systèmes delivers a unique, open and extensible development platform – a platform that fully integrates cross-discipline modeling, simulation, verification and business process support needed for developing complex 'cyber-physical' products. It enables organizations to quickly and easily evaluate requests for changes or develop new products or system variants, while utilizing a unified performance based systems engineering approach that reduces the overall cost of system and product development.

Mecanica has been working with Dassault Systèmes and their solutions for over 30 years.
We not only offer the range of industry leading Dassault technologies but we can also custom build CAD/PDM/PLM
software applications that are tailored for your enterprise.
Canada
Montréal, QC
Tel: (514) 340 1818
Toronto, ON
Tel: (905) 944 0047
USA
Livonia, MI
Tel: 1-888-326-8326
Stamford, CT
Tel: (203) 325-2220
Cincinnati, OH
Tel: (513) 898-9096
San Jose, CA
Tel: (408) 668-8300