SOLIDEXPERIENCE SERIES
Essentials of Composite Engineering
Join the Webinar – Jan. 28, 2021
2 pm – 3 pm ET
What is 3DEXPERIENCE?
Strengthen collaboration, improve execution, and drive innovation across your organization with a single platform. 3DEXPERIENCE provides a real-time view of the business and the business ecosystem by connecting people, ideas, and data in a single collaborative environment that enables companies and individuals to innovate in new ways, all safely secured in the cloud.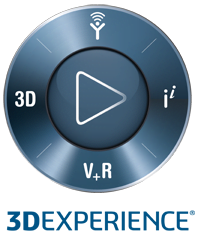 Essentials of Composite Engineering
Take your knowledge of the 3DEXPERIENCE platform one step farther with this exclusive webinar focused on the practical uses of powerful and intuitive tools for Composite Engineering.
Take a deeper look at features, tools, and processes such as:
the new Grid based composite design approach;
advanced composite parameters definitions;
and interactive Stacking management to handle ply groups, sequences, and individual ply review.
Analyze ply cross-sections and layups, create solids for plies, and perform producibility analyses using various algorithms. Compute, optimize, and generate the flattening of individual plies for inspection, and finally, export ply data, generate 2D drawings from Composite Parts, perform core sampling analyses and create ply books for production all in this 1-hour webinar!
By participating in this SolidXperience Series webinar, receive $100 off every $500 training or 3D printing service purchased. *Offer valid from the date of the attended webinar until the end of the following month.

Mecanica has been working with Dassault Systèmes and their solutions for over 30 years.
We not only offer the range of industry leading Dassault technologies but we can also custom build CAD/PDM/PLM
software applications that are tailored for your enterprise.

Products
3DEXPERIENCE
CATIA
DELMIA
ENOVIA
SIMULIA
MARKFORGED
BOXX
Services
Engineering
Training
Support
Software Development
Canada
Montréal, QC
Tel: (514) 340 1818
Toronto, ON
Tel: (905) 944 0047
USA
Livonia, MI
Tel: 1-888-326-8326
Stamford, CT
Tel: (203) 325-2220
Cincinnati, OH
Tel: (513) 898-9096
San Jose, CA
Tel: (408) 668-8300